Whose Idea Was It To Let Zhou Travel Abroad?
Things are going badly on Zhou's not so excellent adventure in Europe. The US is apparently a nation beyond shame at this point—else how otherwise could this nitwit be allowed out and about in the world? The WH must be on a war room style alert, ready to walk back his worst blunders. Having called Putin a "butcher" …
Zhou then called for regime change:

Biden declares Putin 'cannot remain in power' during address in Poland.
news.yahoo.com/russias-signal…
That has been the de facto goal but not so explicitly stated as policy.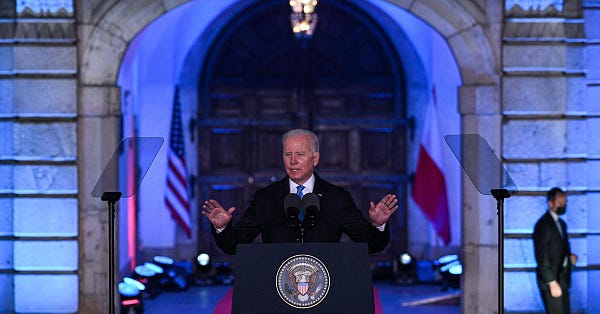 Biden declares Putin 'cannot remain in power' during address in Poland; Russian missile reportedly hits Lviv: Live updates
President Joe Biden on Saturday will cap his European trip talking to Ukrainian refugees in Poland and delivering a speech. Live updates
news.yahoo.com
Lviv, of course, is a short distance from the Polish border. No idea whether the Russian missile stirke there was a strictly military strike or whether is was a message strike. Zhou disconcerted even supporters:
CTH had some fun with that—but in full earnest:
Until today the western governments have denied this allegation. However, in his rambling and inarticulate speech in Poland today Joe Biden stated of Vladimir Putin "for God's sake, this man cannot remain in power," a direct call for the regime change the same Biden administration has denied.

Expect a clean-up effort in 3,… 2,… WATCH:

Overall, it was clear the people behind the Biden administration were attempting to use the background of a grand speech in Poland to reset the failing administration of Joe Biden. However, they failed miserably. [Transcript forthcoming]
And, indeed, as if on cue, Zhou's keepers immediately sprang into action—Fox headlines:
White House immediately forced to walk back explosive comment Biden made about Putin

White House insists US troops not going to Ukraine after Biden comments in Poland
The text of the WH attempted walk-back:
"The President's point was that Putin cannot be allowed to exercise power over his neighbors or the region. He was not discussing Putin's power in Russia or regime change."
Walk-back of that pathetic sort may work for the somnolent in the domestic audience, but not in the real world—including not for countries like Germany that are desperate to continue trade relations with Russia. How long can the Euro nations put up with this insanity? Even pay lip service? Never forget: Bluto Barr thought Zhou was good enough for you and me and America. Barr says he was "shocked" that a noted liar lied. Right.
From a longer post, KD spells out what all thinking people understand—Putin is a truth teller. Just as Putin has said, the conflict in Ukraine isn't really about Ukraine. It's about an American aggressor seeking to destroy Russia. All other considerations aside, that should strike anyone as unwise:
Now Biden has stated that it is our intention to inflict the same on Russia.

WARSAW, Poland (AP) — President Joe Biden on Saturday dramatically escalated his rhetoric against Vladimir Putin, calling for the Russian leader to be removed because of his brutal invasion of Ukraine.

"For God's sake, this man cannot remain in power," Biden's said at the very end of a speech in Poland's capital that served as the capstone on a four-day trip to Europe.

Really?

Now we deign to ourselves the right to remove a nuclear power's leader and denude its government?

What has Putin argued was the goal of The United States and NATO all along, starting with the lies put forward during the integration process of Germany?  To destroy Russia -- erase it as a nation and replace its government with one fashioned after our ideals.

We have called this propaganda, and claimed that was not our goal, nor that of the Western Nations, including but not limited to NATO and the rest of Europe.

President Biden has not put the lie to that claim and, in fact, substantiated that Putin not only was not wrong he was never wrong; the Russian premise, that our actions from 2004 forward when we admitted former Soviet satellites to NATO, was indeed to destroy Russia's government and Russian national identity.

"In this battle we need to be clear-eyed. This battle will not be won in days, or months, either," Biden said.

So it is not about Ukraine at all, is it?

No.

It is, and always was, about destroying Russia.

For the last two decades it has been about destroying Russia.
Again, the obvious—we've been led into a war without any semblance of debate or consultation:
And then there's the hypocrisy of calling America a free country. We know the urgent struggle for freedom has to start at home. CTH jumps all over that—as have many other commentators:
And finally, as if as a cherry on the sundae, the lies—easily documented: